CCW Holsters
We are the exclusive supplier for SmartCarry® holsters in this region. We also have access to most every holster manufacturer of merit.
SmartCarry®
The original and only snag-free, sweat-proof concealed gun holster available!
Two of our concealed carry holsters are shown below. Shown on the left is the standard SmartCarry® concealed carry gun holster and on the right is the "white" version.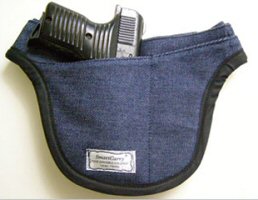 When ordering, simply supply the pistol make, model, optional barrel length, and waist size for the person the holster is for. Each SmartCarry® order is verified and the correct holster is returned. With all the different firearms available, it would be difficult to list them all, including the older, no longer in production models. SmartCarry® will do the research and send the correct holster size.